5 Benefits of a Metal Roof | Long Lasting Calgary Roofing Options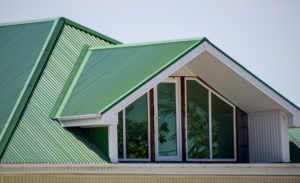 Metal roofs are an attractive option if you're replacing your current roof or building a new house. They're durable, require less upkeep than other roofing options, and can keep the home cooler during the summer months. These are five of the most impressive benefits you can enjoy if you decide to invest in a metal roof.
1) Metal Roofs Are Long Lasting
Metal roofs can last decades, if not a lifetime, so they're an ideal choice if you plan to live in your home for a long time. Unlike asphalt roofs, metal roofs are unaffected by mold, moss, and fungal growth. They are also resistant to squirrels, termites and other pests that can cause significant damage to shingles. The initial expense is higher than other roofing options, but the longevity of a metal roof will pay off down the road.
2) A Metal Roof Is Low Maintenance
Metal roofs are durable, resistant to moisture, and do not require regular maintenance. With a metal roof installed, you don't need to worry about costly repairs that are common with other roofing options. Metal roofs are also lower maintenance during the winter because they do not collect snow, which eliminates the need to sweep snow accumulation off the roof during bad weather.
3) Lower Electric Bills With A Metal Roof
The metal on the roof will reflect the sun and heat, keeping your home cooler on hot days. The less your air conditioner runs, the lower your electric bills will be on the hottest days. Metal roofs also insulate the house during cold weather and retain heat. The cost-saving factor of decreasing energy consumption makes metal roofs a great choice for homes that experience cold winters and warm summers.
4) Improved Fire Protection
Metal is the most fire resistant roofing material due to being noncombustible. During a storm or wildfire, a metal roof is not at risk of catching fire. If you live in an area prone to fires or lightning storms, a metal roof should be considered. They add safety and security to your home and provide protection for you and your family.
5) Weather Resistant For Alberta's Climate
Metal roofs can withstand extended exposure to harsh weather conditions. Rain quickly drains off the roof so the risk of a leak and moisture damage is reduced. Metal roofs can also provide protection from strong winds, hail storms, and other dangerous weather that impacts asphalt and wood shingles.
These five benefits make metal roofs a popular option among homeowners that want a long lasting roof that doesn't require regular maintenance. Metal roofs feature improved safety, protection against strong weather, and the ability to regulate the temperature inside the home to decrease energy consumption. A metal roof is worth considering if you plan to stay in your home for many years and want to save money in the future. If you think Metal Roofing is for you call the experts at Great Canadian Roofing & Siding for a free quote at 780-449-6991.